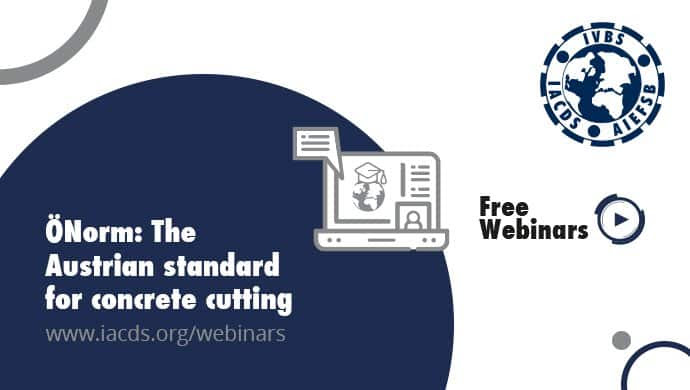 IACDS hosts its first webinar

IACDS has always been committed to the education of professionals related to the concrete sawing and drilling industry. For this reason, we develop a series of activities and actions in order to expand the knowledge and experience related to the sector.

Now, with the current situation, we have adapted our actions to online format, so that we do not stop learning and sharing experiences in such an important time as this.

That's why we start 2021 with our first educational webinar. But what is exactly a webinar? In a nutshell, it's a short (about one hour) educational session, hosted online and broadcast live. Using a specific platform, webinar participants canwatch the presentation and follow the speaker's explanations, as well as interact through a chat and ask their own questions.

Get to know more!
ÖNorm: the Austrian standard for concrete cutting

The first IACDS webinar will be focused on the ÖNorm, the Austrian standard for concrete cutting, and it will take place on February 11th, from 3pm to 4pm (Brussels time, Central European). 

Mr. Roderich Braun (BRAUN), Mr. Bernard Seidl (VBS) and Mr. Georg Lahofer (VBS) will be in charge of this session.

In this webinar, we will discuss the importance of standards and norms in concrete cutting and, of course, we will delve into this Austrian standard.

Participation in this webinar is completely free for all attendees, they just need to register in advance.

Join us!

The ÖNorm: The Austrian standard for concrete cutting

Thursday, February 11th, 15:00 hours (Brussels time, Central European)

Part 1: Presentation
What is IACDS?What is VBS?Why do we do this webinar?
Part 2: Introduction
Why is it important to have standards and norms for concrete cutting?What standards exist at European and global level?Part 3: The ÖNorm: B2253 Mechanical pro­cessing of concrete and masonry, drilling and cutting work
What is?When it has been developed and for what purpose?What are the main contents?In what way does it contribute to the professionalization of the industry?How is it applied by drilling and sawing companies?
Part 4: Questions and comments from participants

Speakers
Mr. Roderich Braun, BRAUN
Mr. Bernard Seidl, VBS
Mr. Georg Lahofer, VBS

For logistical reasons, the number of participants is limited by the platform itself. So, registrations will be accepted in strict order of entry until the technical capacity available is reached for each session.

Information and registration

IACDS webinars are offered free of charge and open to public participation thanks to the financial support of member companies and entities: